Safe & Secure Campus
The management has taken care in providing appropriate safety measures to protect school property and ensure a safe and secure environment for staff and students.
SOP's (Standard Operating Procedures) regarding safety and security is followed on daily basis which includes regular rounds and checks of estate manager, school manager, principal and if required members of the management. The entire campus is monitored by CCTV cameras. We have 24-hour round-the-clock security monitored within the campus.
Laboratories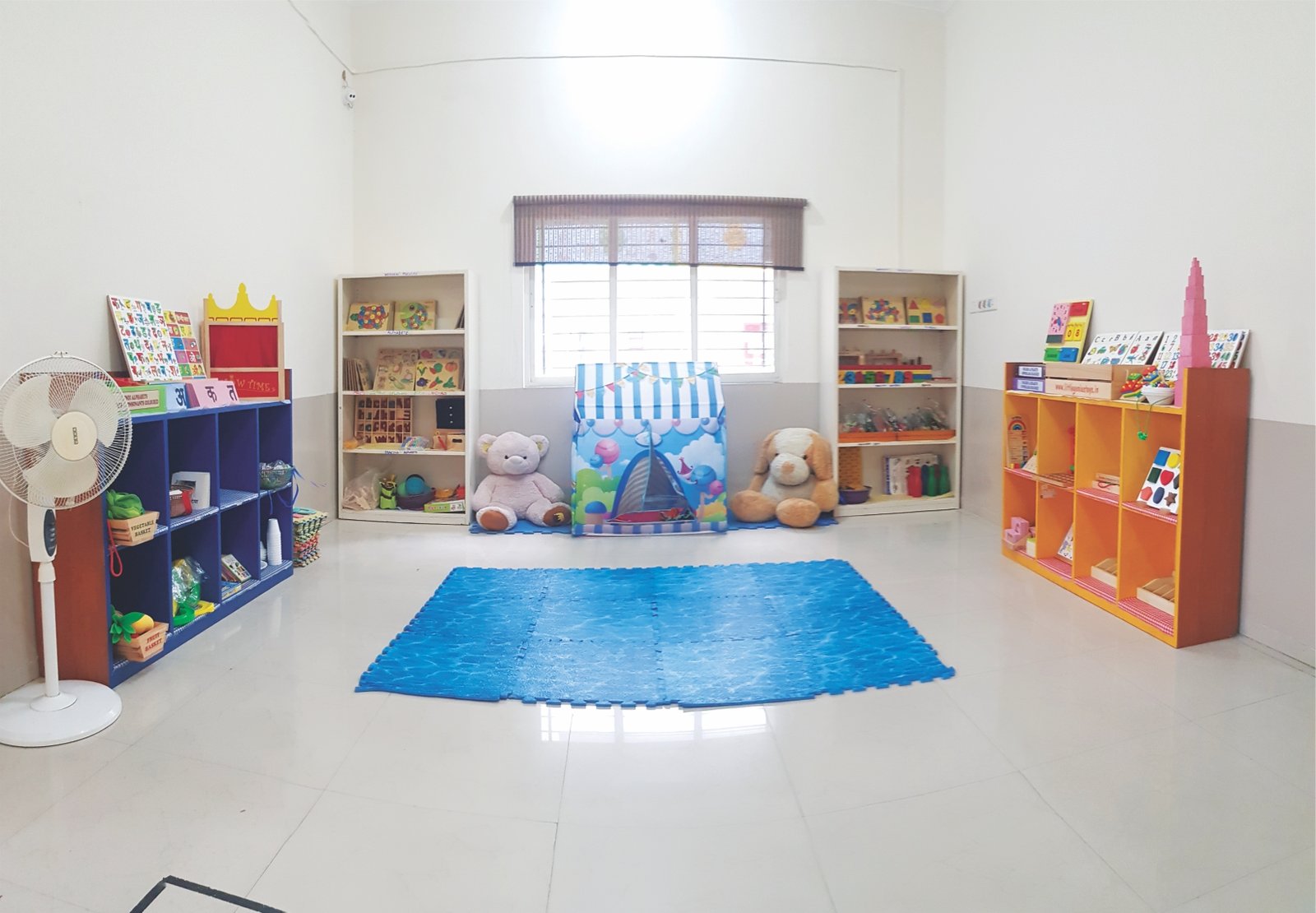 It is believed that a child's brain's maximum development and growth are made in the early years. We are pleased to feature the Play lab, which makes little kids understand things early and use various articles creatively. This lab gives meaningful engaging assignments. And preferably the ones that allow students to work at their own pace. We have developed our Play lab with all the ultra-modern facilities where our students can view various kinds of live models with the Integration of 8 approaches to develop multiple intelligences. i.e. Musical, Visual/ Spatial, Intrapersonal, Naturalistic, Logical/Mathematical, Verbal/ Linguistic, Interpersonal, Bodily/ Kinesthetic with the combination of Kindergarten( Germany), Reggio Emilio ( Italy ). Waldorf and Montessori Method and apparatus.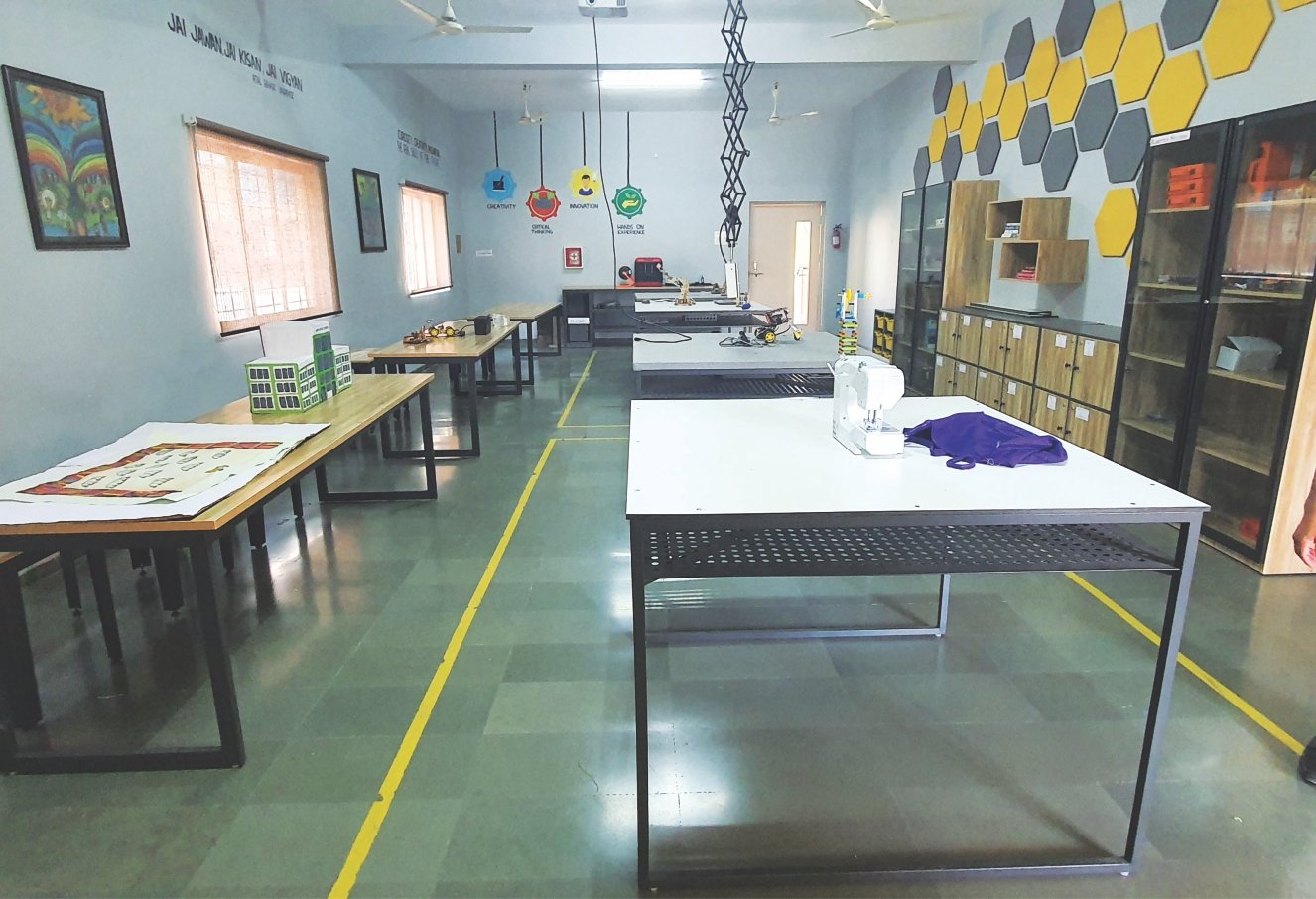 Atal Tinkering Lab (ATL) is a central government of India initiative to create an environment of scientific temperament, innovation, and creativity amongst Indian students. It is a step towards a new India that will embrace and encourage novel and innovative ideas and inventions.
Similarly, Atal Innovation Mission Background NTII Aayog's flagship program, Atal Innovation Mission (AIM) including Self-Employment and Talent Utilization (SETU) are Government of India's endeavor to promote a culture of innovation and entrepreneurship. The objective of these programs is to serve as a platform for the promotion of world-class Innovation Hubs, Grand Challenges, Start-up businesses, and other self-employment activities, particularly in technology-driven areas.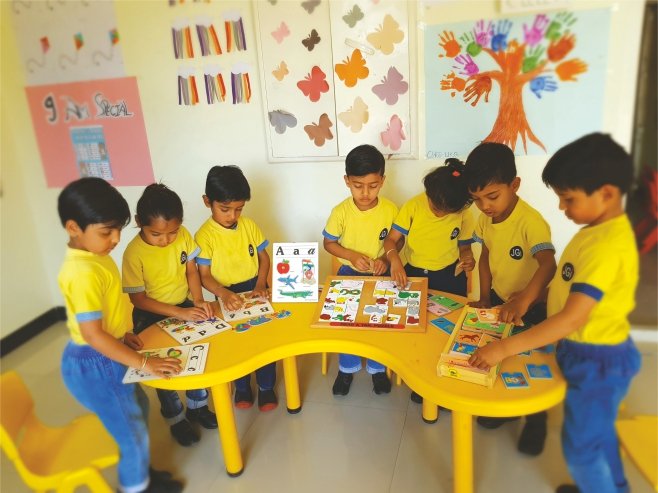 Language lab is becoming highly valued because they offer students a structured eLearning environment that is successful and reliable. New technologies are increasingly more present in classrooms as they facilitate the teacher's role in creating a more attractive learning environment for the student and can offer their students more practice hours and up-to-date exercises than can be found in language books. Language labs provide practice in an entertaining and interactive way to acquire the 4 main language skills: listening, speaking, reading, and writing.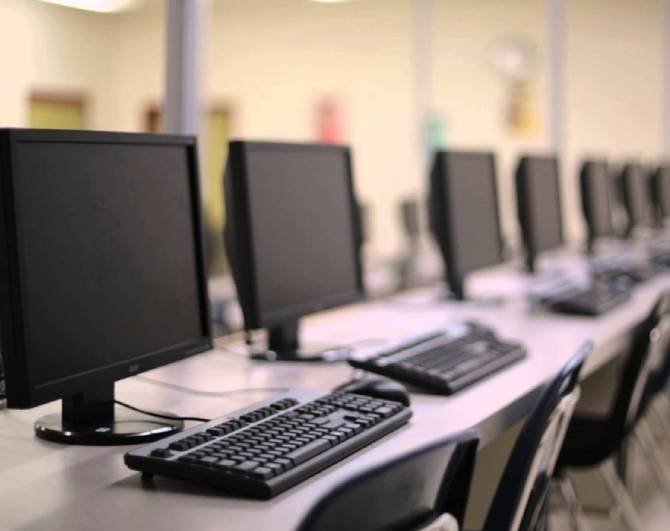 In the present scenario, when the elders move with the whole world in their pockets, it becomes essential for the children to be equipped with the latest technology even at school. To prepare the students for the professional world tomorrow, JPS-Barnagar boasts three high-tech computer labs with Wi-Fi connectivity. The computer education starts from class I onwards. This keeps them in tune with the latest computers and helps them to prepare projects at any point of the day.
The teacher fraternity is computer literate and regular workshops keep them aware of the changing trends.
The Bio lab gives hands on experience to the students in all aspects of the subject. There are live and preserved specimens of plants and animals to facilitate course experiments. There is a good collection of permanent slides that proves to be a wealth of information for the students. All modern, scientific apparatus along with models and charts are used here.
Demos, experiments, and practical are carried out by the students over here. This lab also has a dark room for optics experiments. Students are guided and observed while they are at work in the lab.
The smell of fumes that emanates from this lab defines the young scientists in the making. The lab is thoroughly equipped and proves to be a platform for inquisitive minds. All the experiments are carried out under vigilance. Besides the experiments, all activities as per the NCERT requirement are also executed in the lab.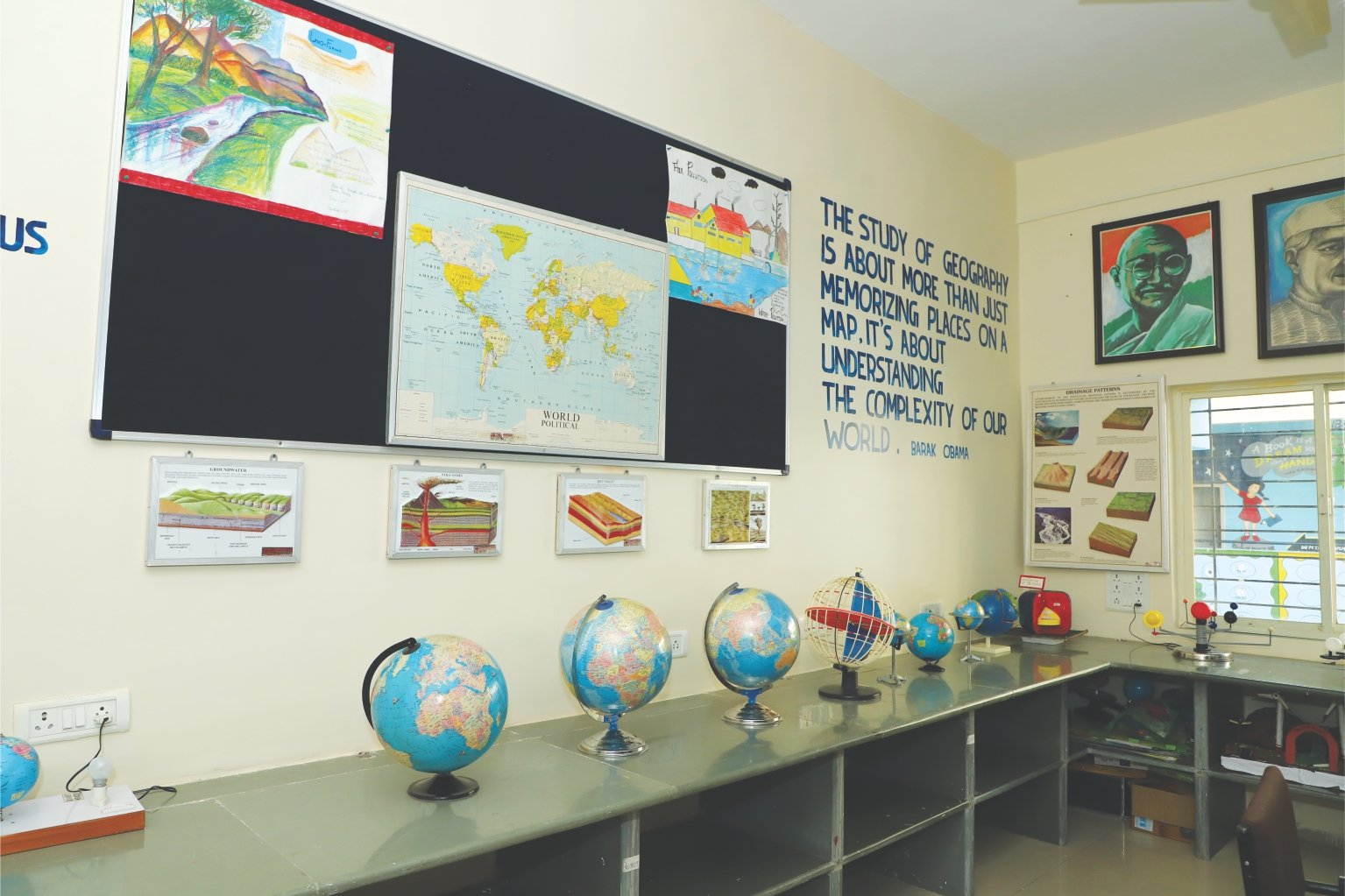 The Social Science lab acts as an activity room for the students, as it combines academic experience with practical knowledge making learning effective, lively, and fun. This lab provides children with varied options and tools which enrich the entire teaching-learning climate of students. They learn to investigate how social science is embedded in our everyday lives. Young Pathfinders enrich their understanding and learn to analyze the use of evidence and data. It has a rich collection of :
Globes
Topographical Maps
Specimens of rocks and minerals
Working and non-working 3D Models
Historical political maps of various civilizations
Geographical and political charts 2D and 3D models.
Models made by students during exhibitions.
Artifacts made by the students.
It helps in reshaping the environment of the class, giving the students an opportunity to go beyond the school and take the pleasure of experiential learning.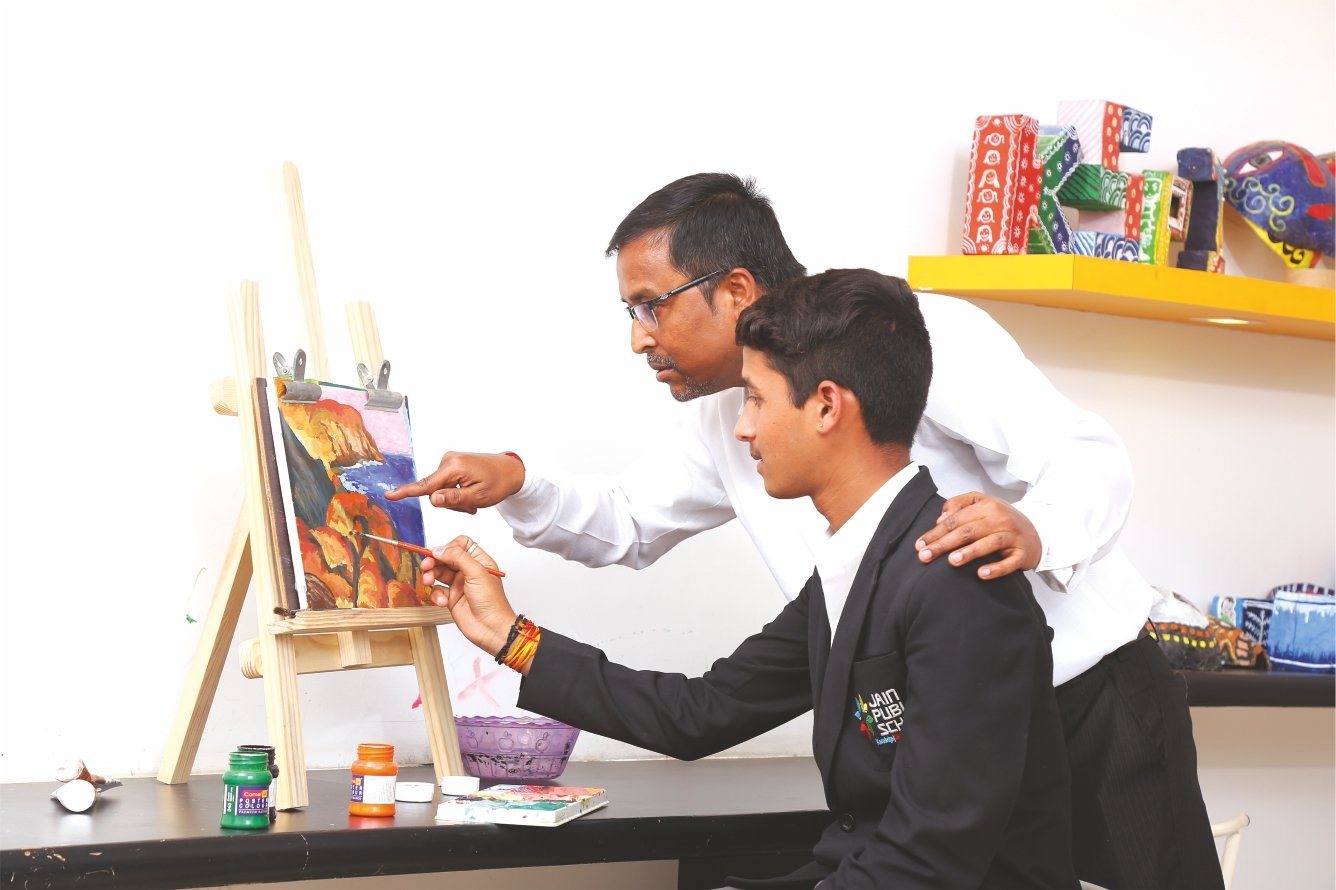 The school has an art department that buzzes with creativity. This department does more than just teaching art. It infuses creativity in the young minds and hearts here.
The various fields in which students are trained here are:
Sketching, Coloring, and Painting.
Paper Craft
Clay Modeling
Pottery
Sculpture
It's amazing to see little ideas turn into shapes and figures that reflect the passion of the young creators.
Besides the day to day activities that take place within the classrooms, little creative hands add colour along with smiles to their lives over here. It's heartening to see pictures of the mind turn into pictures of reality through creative hands.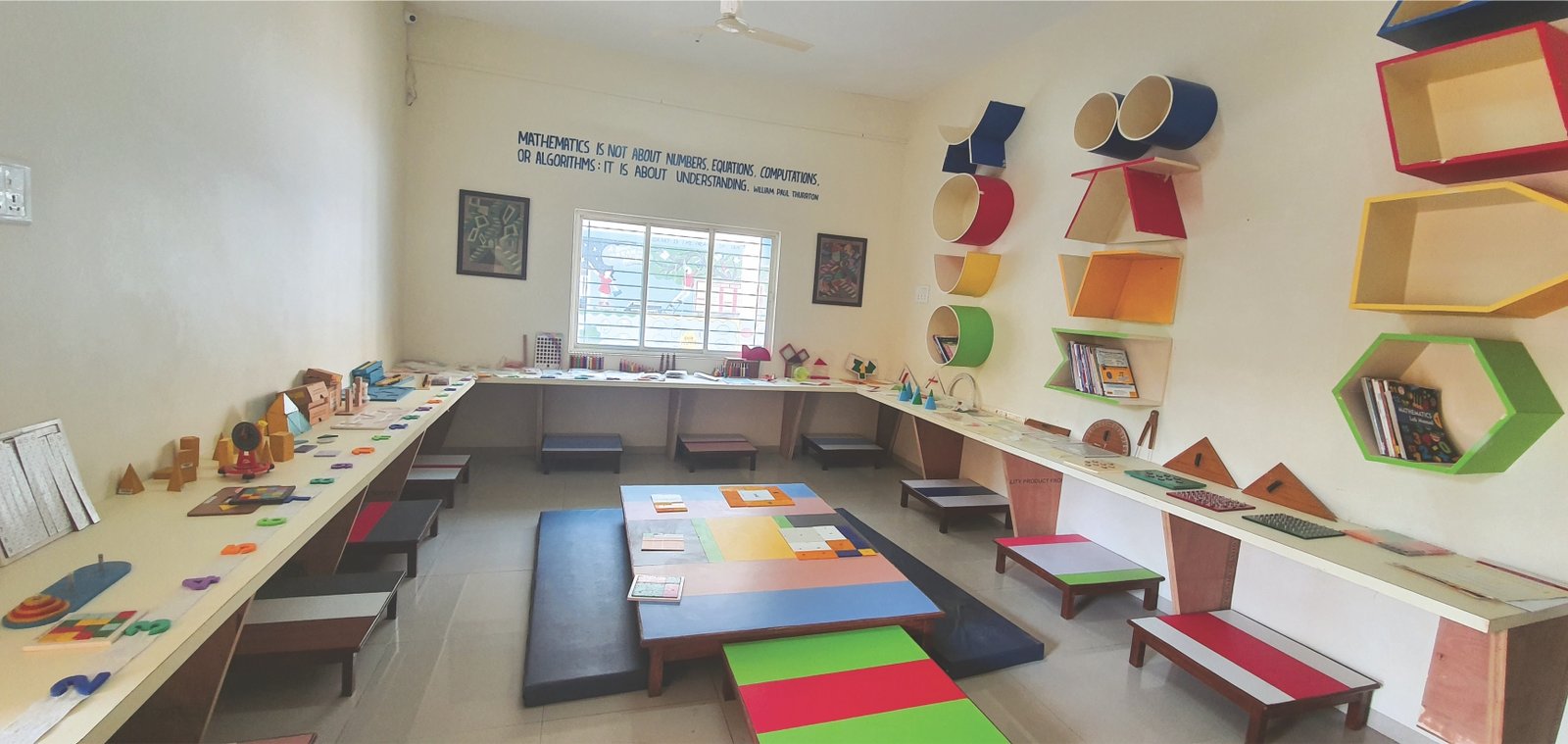 Mathematics, as a subject is indispensable in the development of any nation with respect to science and technology since mathematics itself, is the language of science. In the current scenario, where virtually all attention is shifted towards technological advancements, the teaching and learning of Mathematics have to be viewed in a new light. The Math Lab 'Number Magic' addresses these requirements.
The Mathematics Laboratory in JPS Barnagar has a collection of different specialised materials and teaching/learning aids, needed to help the students understand the concepts of Mathematics through relevant, meaningful, and concrete activities. These activities are carried out by teachers and the students to explore the world of mathematics, to learn, discover, and develop an interest in the subject.
Activities conducted in a Maths Laboratory enable a student to learn abstract concepts through concrete experiences and thus increase their understanding of ideas, enabling students to personally experience the joy of discovering principles and relationships. The activities conducted in Maths Laboratory thus develop problem-solving ability in students, allowing them to learn at their own pace.
Lab activities allow students to actually engage in 'Learning by Doing' rather than being passive observers or recipients of knowledge in the learning process, thus making Mathematics more 'Learner centered'.